The Pirates of Somalia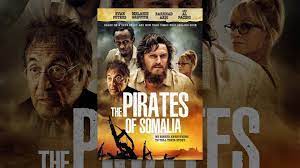 In this biographical drama inspired by actual events, Evan Peters is joined by acting powerhouse Al Pacino to tell us the story about young Canadian journalist Jay Bahadur and his time in war-torn Somalia. Directed and written by Bryan Buckley, the cast includes Evan Peters (Jay Bahadur), Al Pacino (Seymour Tolbin). Melanie Griffith (Maria Bahadur), Berkhad Adbi (Adbi), Corola Pena (Katlyn), Philip Ettinger (Alex), and Russell Posner (Jared Bahadur).
After graduating from the University of Toronto, Jay Bahadur (Evan Peters) still lives with his parents. He works as a questioner in a supermarket to support himself but still dreams about becoming a journalist. He tries to get his big break in journalism unsuccessfully until his journalistic role model Seymour Tolbin (Al Pacino) inspires him to take an unconventional approach to his career. Instead of pursuing a standard career path every through post-grad education, Jay decides to jumpstart his career by starting his journalistic project. He decides to investigate the background of piracy in Somalia. He manages to get in touch with some of the locals and sets his investigation in motion.
Jay travels to Somalia in the midst of the civil war, where he hires a local translator Adbi (Berkhad Adbi). Jay manages to establish communication with some of the local pirates and interview them. He decides to extend his mission in Somalia and explore the entire pirate organization. As he continues his investigation, he sinks deeper in danger to the point of no return.
"The politics of piracy are complex and well-explored here, always with a gun in the foreground to unsettle whatever rationality is happening behind it. For a movie primarily centered around conversations, meetings, and interviews, each scene has a thumping momentum coxswained by the powerful chemistry between its leads. Peters is great out of necessity—anyone else would be swallowed up by Abdi's sleepy-eyed shine." – Paste Magazine
If you expect an action-packed adventure film, you won't be pleased with the slow rhythm the story unfolds. But there is no other way to tell the story of people from different cultures, backgrounds, and languages, meeting and trying to solve the complex puzzle of their situation. However, this film is far from boring. The acting of the entire cast is, simply put, superb. Al Pacino made the rest of the cast pull their best game for this film. The writing is clever and without too many predictable clichés. You can stream it now on Watch4Free.