13 (2010 film)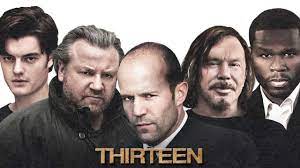 Thirteen is an American thriller movie starring Jason Statham, Mickey Rourke, Curtis "50 Cent" Jackson, Michael Shannon, and many other famous actors from American cinematography.
This is a movie of intense emotions and high pressure describing the unfortunate access of a young naive man into a world of money and crime. He enters this world by stilling the identity of dead men and in pursuit of money enters the underground world of crime.
Namely the main character, Vincent Ferro, accidentally steps into a game of Russian rulet, played solely for the fun of rich people betting on other people's lives. Of course, there is a price for the truly lucky one that stays alive, but the odds of that happening are quite low.
Even though the chances are not on his side, Vincent enters the game along with several other characters, some participating by will, and some by force.
The character played by Mickey Rourke, Patrick Jefferson (originally Jesse James Jefferson), a Texan Cowboy broken out of a Mexican jail and sold into the competition is one of the forced players. Ronald Lynn Bagges, a competitor who has been sprung from a mental institution to participate, played by Ray Winstone is another example. Ronald is actually the brother of one of the rich organizers of this unfortunate game.
Our hero manages to survive several rounds of this sick game, where every player actually has to shoot the person in front of him with a gun with just one bullet. His luck saves him several rounds until he manages to exit the game with a price of 1.8 million dollars. He grants the bag of money trying to exit the game and mails it to his family but he keeps just a small amount to buy some toys for his sister's children. At that moment Jasper Bagges attacks him partially to avenge his brother's death and partially to steal his money. Vincent ends up wounded, but jasper manages to still the bag with only toys in it.
"13'' is Gela Babluani's American remake of his successful 2005 Georgian-language film "13 Tzameti.'' The big movie critiques did not share very positive comments on this remake, but the movie itself was accepted by the audience as " This movie really had my heart racing. A little rough around the edges. Definitely an Independent film style. Definitely suspenseful. My husband thought that this was a strange movie. I found it intriguing, and a bit shocking, at times. Plenty of familiar faces were involved in this project…"
Do not read other people's reviews, have some rest from the summer heat and give us your comment of 13 here at W4FREE